Academic Rhinology Fellowship
The Academic Rhinology Fellowship offers exposure to the clinical and research aspects of adult rhinology and is designed to prepare the participant with the skills for a career in academic otolaryngology. It is accredited by the American Rhinologic Society as an official NeuroRhinology Fellowship. Trainees will distribute time between OR (40 percent), office (40 percent) and research (20 percent). Successful completion of the fellowship will include presentation (as first author) of at least two abstracts at national meetings and completion of at least one full length manuscript that is submitted to a major journal for publication.
About the Program
Training will include pre- and post-operative care of patients with benign and malignant rhinologic disease. Trainees will be accomplished in traditional and endoscopic surgical approaches to nasal and sinus disease, including advanced frontal sinus dissection such as the endoscopic Lothrop procedure, image-guided surgery, endoscopic skull base surgery and cosmetic rhinoplasty. Instruction in the evaluation and management of chemosensory disorders will be included in the curriculum.
Fellows typically graduate with in excess of 300 surgical cases. These reflect a broad range techniques, including primary functional endoscopic sinus surgery (FESS), revision FESS, complex frontal sinus disease, sinonasal tumors, trans-sinonasal skull base surgery, trans-sinonasal orbital surgery, rhinoplasty and occasional general otolaryngology (sleep surgery, maxillofacial trauma).
Abundant research opportunities are available, although fellows are encouraged to concentrate on one or two major areas, thereby developing an academic niche during the course of the fellowship. Opportunities range from basic science bench work involving inflammatory and immunologic aspects of sinusitis to prospective and retrospective clinical studies of sinusitis management.
Fellows will be encouraged to develop proposals for areas of research focus under the direction of the fellowship leadership and are expected to present their work at the COSM and at the annual American Rhinologic Society meeting in September (fall) following completion of the training. The fellow may also be offered opportunities to author chapters and review articles where Drs. Conley, Kern, Tan, Welch or Smith have been invited as senior author.
Academic rhinology fellows are also expected to:
Provide mentorship to residents training in primary FESS and general otolaryngology cases
Manage of allergic disorders under the guidance of Northwestern University medical allergists in the Northwestern Sinus and Allergy Center
Participate in rhinologic cases that arise during on-call hours
Present at Departmental Grand Rounds four times annually
Proctor two journal clubs in rhinology and a one-day ESS cadaver dissection course for the residents under the direction of Drs. Conley and Kern
To enter the fellowship, trainees must be board-eligible or board-certified in otolaryngology and able to obtain an Illinois Medical License.
All applications for the Academic Rhinology Fellowship are processed through SFMatch for Rhinology. Applications and documents are distributed to specified programs using the online system. Applications are due by Feb. 1, and the interview process is from March 1 to May 31 for a July start date the following year.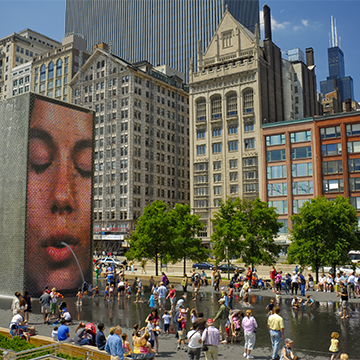 Housestaff training through McGaw Medical Center of Northwestern University provides diverse and challenging clinical experiences and world-class education located in the heart of the beautiful city of Chicago. Learn more via the links to the McGaw website below.
Watch Our Videos
Physician-Scientist Training & Resources
We offer a wide range of resources, mentorship opportunities and training to help our residents and fellows excel as physician-scientists. Explore all of the resources and hear from housestaff who are making research a major part of their career development plans.
VISIT THE STARZL ACADEMY SITE