Facial Plastic & Reconstructive Surgery Fellowship
In accordance with the goals of the Education and Research Foundation of the American Academy of Facial Plastic and Reconstructive Surgery (AAFPRS), the Facial Plastic & Reconstructive Surgery fellowship will provide the training foundation for  individuals dedicated to careers in facial plastic surgery through training in the areas of cosmetic surgery, reconstructive surgery and research. This additional expertise emphasizes scholarship, critical analysis of clinical problems and development of additional skills in the performance of techniques required for the practice of the subspecialty. Fellows will receive training in all aspects of surgical care, including initial consultation, pre-operative evaluation, surgical treatment, reconstructive surgery and long-term care of cosmetic and reconstructive patients.
Connect with Us
For information about the Facial Plastic & Reconstructive Surgery Fellowship, please contact our program co-directors at otolaryngology@northwestern.edu or 312-695-3222.
About the Program
 Educational Goals
To provide the fellow with a comprehensive clinical and surgical education in the field of facial plastic and reconstructive surgery
To establish an environment in which the fellow can develop their skills in both functional and cosmetic facial plastic surgery
To equip the fellow with the necessary clinical and surgical tools and techniques to establish their own practice or join an existing department upon completion of fellowship
To prepare the fellow thoroughly for a career in either academic or private practice facial plastic and reconstructive surgery
To provide an environment in which the fellow is able to pursue their research interests in basic science or clinical research
 Research
As per AAFPRS guidelines, a scholarly project culminating in a formal manuscript that is suitable for publication and/or presentation at a national meeting is required. The project may be within our department, or the fellow may collaborate with another department at Northwestern University if desired. There is access to a cadaver laboratory for research.
 Teaching Responsibilities
The fellow is expected to play an active role in resident education. There are board reviews and journal clubs tailored to facial plastics spaced throughout the year that the fellow will help to coordinate. Additionally, teaching will be done in the clinic and operating room.
 Case Load
Each week, the fellow will spend approximately two days with the director, Dr. Sidle, and two days with the co-director, Dr. Thomas. The fellow will have approximately one full day each week comprised of their own clinic patients and operating room cases. The experience is designed to optimize continuity of care, with the fellow participating in preoperative assessment, surgery and postoperative care. The fellow will assist with Dr. Sidle and Dr. Thomas' cases with increasing autonomy throughout the course of the year as deemed appropriate. The fellow will be primary surgeon on any cases booked for patients seen in their clinic. In total, the fellow will assist and/or perform a total of 300 to 400 surgical procedures over the course of the year.
 Call Responsibilities
The fellow will participate in the attending call pool. Call is variable but is generally one week every six to eight weeks, with trauma cases preferentially distributed to the fellow. Additionally, the fellow is expected to be available for any emergencies related to the director and co-director's patients.
 Operative Experience
The fellow will have a broad exposure to both functional (50 percent) and cosmetic (50 percent) facial plastics. Specifically, operative training includes: repair of Mohs defects with local and regional flaps, tissue expansion, autografting, alloplastic implantation, otoplasty, maxillofacial trauma, dermabrasion, laser resurfacing, liposuction, lip and malar augmentation, mentoplasty, rhytidectomy, oculoplastics, brow lift and primary and revision rhinoplasty. The fellow will have a steady increase in autonomy throughout the year and will have the opportunity to book their own cases from patients seen in the fellow's clinic.
 Requirements & Eligibility
To enter the fellowship, trainees must be board-eligible or board-certified in otolaryngology and able to obtain an Illinois Medical License.
 How to Apply
All applications for the Facial Plastic & Reconstructive Surgery Fellowship are processed through the AAFPRS and SF Match. Applications and documents are distributed to specified programs using the online system. The interview process is from March 1 to May 31 for a July start date the following year.
 Why Northwestern?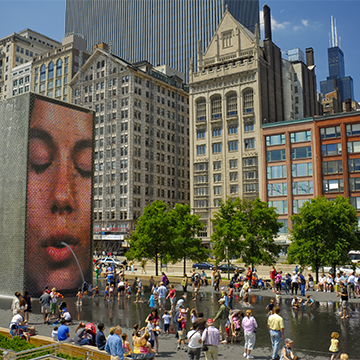 Housestaff training through McGaw Medical Center of Northwestern University provides diverse and challenging clinical experiences and world-class education located in the heart of the beautiful city of Chicago. Learn more via the links to the McGaw website below.
Watch Our Videos
Physician-Scientist Training & Resources
We offer a wide range of resources, mentorship opportunities and training to help our residents and fellows excel as physician-scientists. Explore all of the resources and hear from housestaff who are making research a major part of their career development plans.
VISIT THE STARZL ACADEMY SITE