General Dentistry Residency
The Department of Otolaryngology - Head & Neck Surgery offers a one-year General Dentistry Residency Program. Training is based out of Northwestern Dental Center, a custom-built, 16-operatory facility located on the second floor of the Galter Pavilion in downtown Chicago.
The program provides the licensed dental school graduate the opportunity to become experienced in the practice of clinical dentistry and to work with a wide range of medically compromised patients. Emphasis is placed on the vital role of interdisciplinary communication and the team approach in providing optimal comprehensive patient care. Patient referrals to the Hospital Dental Service are a result of inpatient consultation requests from Northwestern Medicine physicians.
The training program focuses on several key areas:
Provision of comprehensive and complete inpatient and outpatient dental care within the hospital setting
Management and staffing of a 24-hour, seven-day-a-week, oral and dental emergency service through the hospital Emergency Department
Selected off-service rotations, including experience in Emergency Medicine, Anesthesia, Oral & Maxillofacial Surgery and Internal Medicine
Hospital administration protocols and procedures as they affect the practice of dentistry in the hospital
Clinical and didactic training in relevant dental and medical specialty areas using the resources of Northwestern University Feinberg School of Medicine
Active participation in department presentations and journal club meetings, as well as involvement in medical and dental hospital teaching rounds
Active participation in the Scientific Program of the Chicago Dental Society Midwinter Meeting is mandatory, and the presentation of a table clinic at this meeting is expected
Two residents are accepted to the program annually. Residents must be eligible for dental licensure in Illinois.
The program participates in Postdoctoral Application Support Service (PASS).  Interested applicants should send the following to the address below (to the attention of Dental Manager) before Nov. 1: a completed PASS application packet, undergraduate transcripts, a 2 x 2 photograph of the applicant and a curriculum vitae (encouraged but not necessary).
Dental Manager
Dentistry Residency Coordinator
201 E. Huron St., Suite 246
Chicago, IL 60611
312-926-8363
Prospective candidates will be contacted for interviews in the month of November.  Final selection of two candidates will be completed by the end of the year.
For more information on the General Dentistry Residency Program, contact Mark C. Hutten, DDS, program coordinator, at 312-926-4165 or mhutten@northwesterndental.com.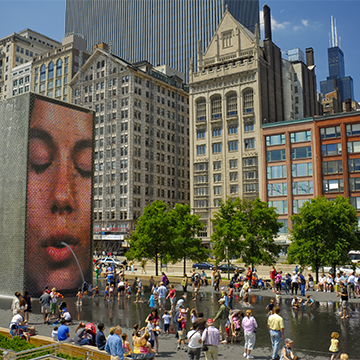 Housestaff training through McGaw Medical Center of Northwestern University provides diverse and challenging clinical experiences and world-class education located in the heart of the beautiful city of Chicago. Learn more via the links to the McGaw website below.
Watch Our Videos
McGaw Experience Discover Feinberg Northwestern Medicine Community Partnership Program Learn More About Chicago Get to Know Streeterville